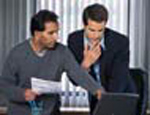 InteMarket Leverages the Value of Digital Marketing Experience
InteMarket's Digital Marketing and Demand Generation services services are based on 20 years experience with businesses both large and small, including the following organizations:
Adobe Systems
eBay.com
WooMe.com
San Jose Convention Bureau
Float.com
Tigercinema.com
Chargepoint
Ocwen Financial
Mediazone.com

Autodesk
Friendfinder
Wireline.net
Nirve.com
SDI Industries
BRE Properties
Bella Cera Floors
WirelessGuys.com
Yahoo!
Our Digital Marketing Services Team
To learn more about our digital marketing service providers and what drives us, meet our expert digital marketing consulting services team.
For more information on InteMarket's Digital Demand Generation services, please contact us.